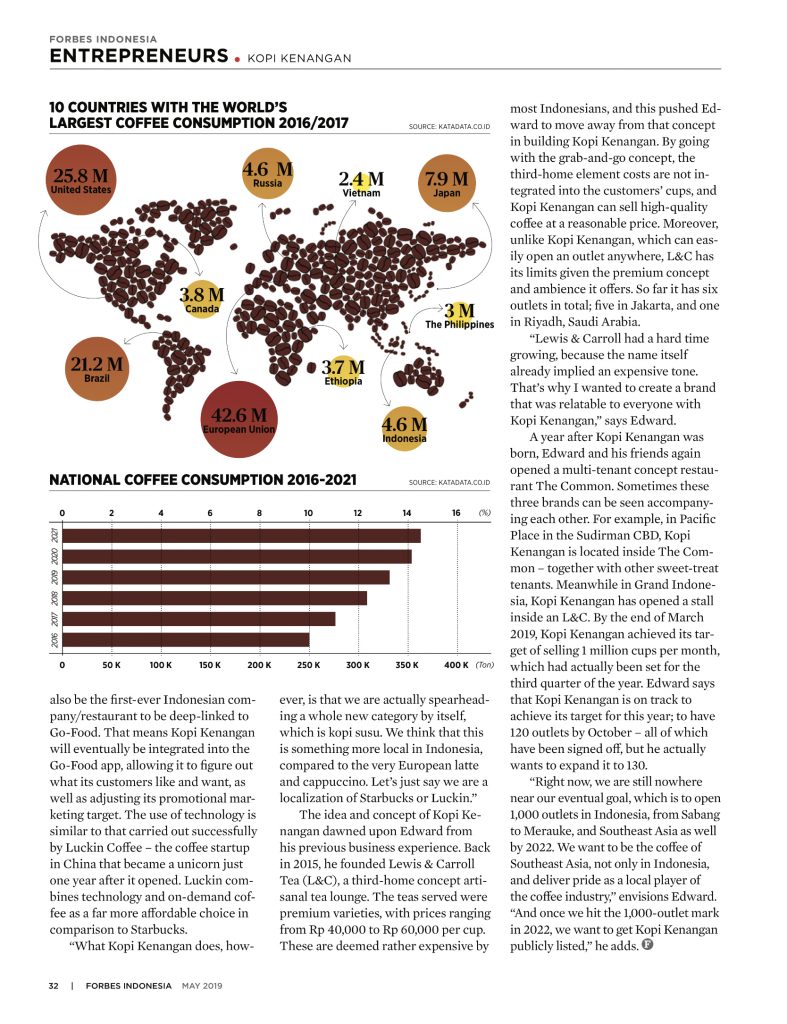 by Marella Putri, Forbes Indonesia May 2019 edition
The coffee-drinking culture has become a growing phenomenon in Indonesia recently, particularly among the younger generation. Indonesia is the sixth-largest coffee consumer, with a report by the Ministry of Agriculture showing national coffee consumption in 2016-2017 of around 276,000 tonnes. This figure is expected to grow by 8.22% on average until 2021 and reach 370,000 tonnes. The trend in consumption has led local coffee stores to open up across the country, such as Kopi Kenangan (PT Bumi Berkah Boga), a non-franchise grab-and-go coffee house specializing in Indonesia's signature kopi susu or sweet coffee and milk. With the current business traction, Kopi Kenangan is planning to open outlets across the country and beyond.
Previously, people had two choices of coffee sold on the market: cheap sachet coffee sold at mom-and-pop stores or warung and high-end coffee like the Seattle-based coffeehouse chain Starbucks. The absence of an alternative middle choice between these two categories was seen as an opportunity to make mass-affordable coffee by Edward Tirtanata, cofounder and CEO of Kopi Kenangan.
Edward cofounded the coffee chain in 2017 with his high-school friend James Prananto, who acts as the COO and was listed in Forbes Indonesia's 30 Under 30 2019, and Christian Sutardi, who is also the cofounder of furniture startup Fabelio. The three of them used their own budget of less than Rp 200 million as initial capital to buy equipment. After gaining their first payback in about three months, they used it to open another store, and thus the cycle continued. Their attractive market growth caught the attention of Indonesia-based venture capital company Alpha JWC Ventures, which invested in Kopi Kenangan's $8 million seed-round back in October 2018. Since the investment, Kopi Kenangan has now been able to reach 5,000 % year-on-year growth with tempting margin as well, which Edward claims to be double-digit EBITDA percentage to revenue. The difference is now the payback period has stretched to eight months, due to an increased investment in top coffee machines – in contrast to their early days in the business.
The first outlet was located at the Standard Chartered tower in the Setiabudi area, South Jakarta, which opened in mid-2017. Less than two years later, Kopi Kenangan now has over 60 stores. The company's Instagram page always keeps track of upcoming and newly opened stores, and also interacts closely with customers The name 'Kenangan', which literally translates as 'memory', attracted customers with its sappily named menu choices. People became curious and spread the word by themselves, creating a chain of free self-marketing before Edward actually had to launch marketing for the first outlet.
Other than its unique approach to the market, price is also a major consideration. Whereas most coffee houses sell their lattes for around Rp 40,000, the price of Kopi Kenangan's kopi susu starts at only Rp 18,000.
"We want to keep our current price as our standard, or else the coffee will be too expensive and it won't be something that you can consume every day. And Kopi Kenangan will stay that way, because it is the price that allows it to be mass affordable for our target – the middle class of Indonesia, which can include every range of market," explains Edward.
But keeping the price affordable doesn't mean that Kopi Kenangan puts quality behind. Since there are now many similar Kopi Susu business, Edward says Kopi Kenangan competes by quality they offer. The company is using La Marzocco coffee machines which cost thousands of US dollars, premium Greenfields milk, and export grade coffee beans. To ensure the quality and service, the company prefers not to franchise the brand.
Kopi Kenangan focuses on the new kind of coffee chain, combining technology with online-to-offline business. Part of the investment by Alpha JWC is to develop the Kopi Kenangan application, which is to be launched in April. The app can be used for a loyalty program and pre-order service. Edward claims that Kopi Kenangan will also be the first-ever Indonesian company/restaurant to be deep-linked to Go-Food. That means Kopi Kenangan will eventually be integrated into the Go-Food app, allowing it to figure out what its customers like and want, as well as adjusting its promotional marketing target. The use of technology is similar to that carried out successfully by Luckin Coffee – the coffee startup in China that became a unicorn just one year after it opened. Luckin combines technology and on-demand coffee as a far more affordable choice in comparison to Starbucks.
"What Kopi Kenangan does, however, is that we are actually spearheading a whole new category by itself, which is kopi susu. We think that this is something more local in Indonesia, compared to the very European latte and cappuccino. Let's just say we are a localization of Starbucks or Luckin."
The idea and concept of Kopi Kenangan dawned upon Edward from his previous business experience. Back in 2015, he founded Lewis & Carroll Tea (L&C), a third-home concept artisanal tea lounge. The teas served were premium varieties, with prices ranging from Rp 40,000 to Rp 60,000 per cup. These are deemed rather expensive by most Indonesians, and this pushed Edward to move away from that concept in building Kopi Kenangan. By going with the grab-and-go concept, the third-home element costs are not integrated into the customers' cups, and Kopi Kenangan can sell high-quality coffee at a reasonable price. Moreover, unlike Kopi Kenangan, which can easily open an outlet anywhere, L&C has its limits given the premium concept and ambience it offers. So far it has six outlets in total; five in Jakarta, and one in Riyadh, Saudi Arabia.
"Lewis & Carroll had a hard time growing, because the name itself already implied an expensive tone. That's why I wanted to create a brand that was relatable to everyone with Kopi Kenangan," says Edward.
A year after Kopi Kenangan was born, Edward and his friends again opened a multi-tenant concept restaurant The Common. Sometimes these three brands can be seen accompanying each other. For example, in Pacific Place in the Sudirman CBD, Kopi Kenangan is located inside The Common–together with other sweet-treat tenants. Meanwhile in Grand Indonesia, Kopi Kenangan has opened a stall inside an L&C. By the end of March 2019, Kopi Kenangan achieved its target of selling 1 million cups per month, which had actually been set for the third quarter of the year. Edward says that Kopi Kenangan is on track to achieve its target for this year; to have 120 outlets by October – all of which have been signed off, but he actually wants to expand it to 130.
"Right now, we are still nowhere near our eventual goal, which is to open 1,000 outlets in Indonesia, from Sabang to Merauke, and Southeast Asia as well by 2022. We want to be the coffee of Southeast Asia, not only in Indonesia, and deliver pride as a local player of the coffee industry," envisions Edward. "And once we hit the 1,000-outlet mark in 2022, we want to get Kopi Kenangan publicly listed," he adds.
See original version on Forbes Indonesia website.