Unlocking The Next Wave of Digital Growth:
Beyond Metropolitan Indonesia

Download full report here.
In the past decade, we have seen Indonesia's digital economy grow from nascency into one of Asia's hotspots. Despite outstanding growth, Indonesia is mostly untouched. Most startups are based in Greater Jakarta area, with most digital solutions focusing on this region, leaving areas beyond the capital and Java behind. This study aims to understand Tier 2 and Tier 3 cities' characteristics, state, and potential.
This research is conducted by Alpha JWC Ventures and Kearney, collaborating with Credit Suisse, AWS, and Xiaomi Indonesia. We collect qualitative data with stratified sampling (FGD and in-depth interviews) with multiple industry stakeholders in 13 cities and quantitative data with phone surveys in 23 cities (2100+ samples for end consumer and 1100 samples for retailers).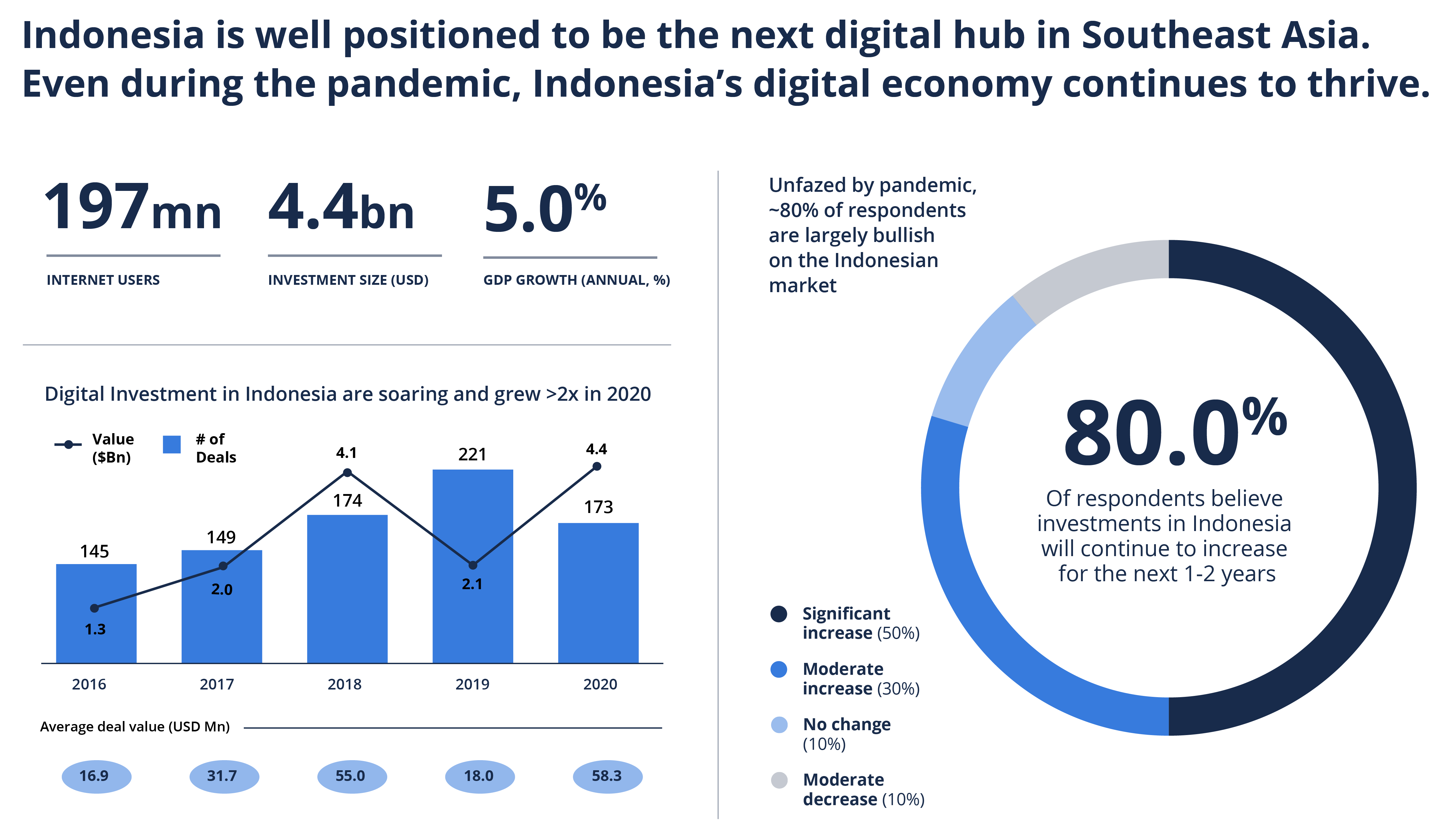 Investors and startups can expect a new wave of growth beyond non-Metropolitan areas
Accelerated digitization has been driven by increased internet penetration, rising purchasing power, infrastructure development making Indonesia an emerging digital hub in Asia. There is high untapped potential in tier 2/3 cities. A clear trend emerges that demand is going to increase in Tier 2/3 cities, especially as digital penetration increases.
Based on our findings, we created a new tiering system that's being classified by Indonesia's socio-economic criteria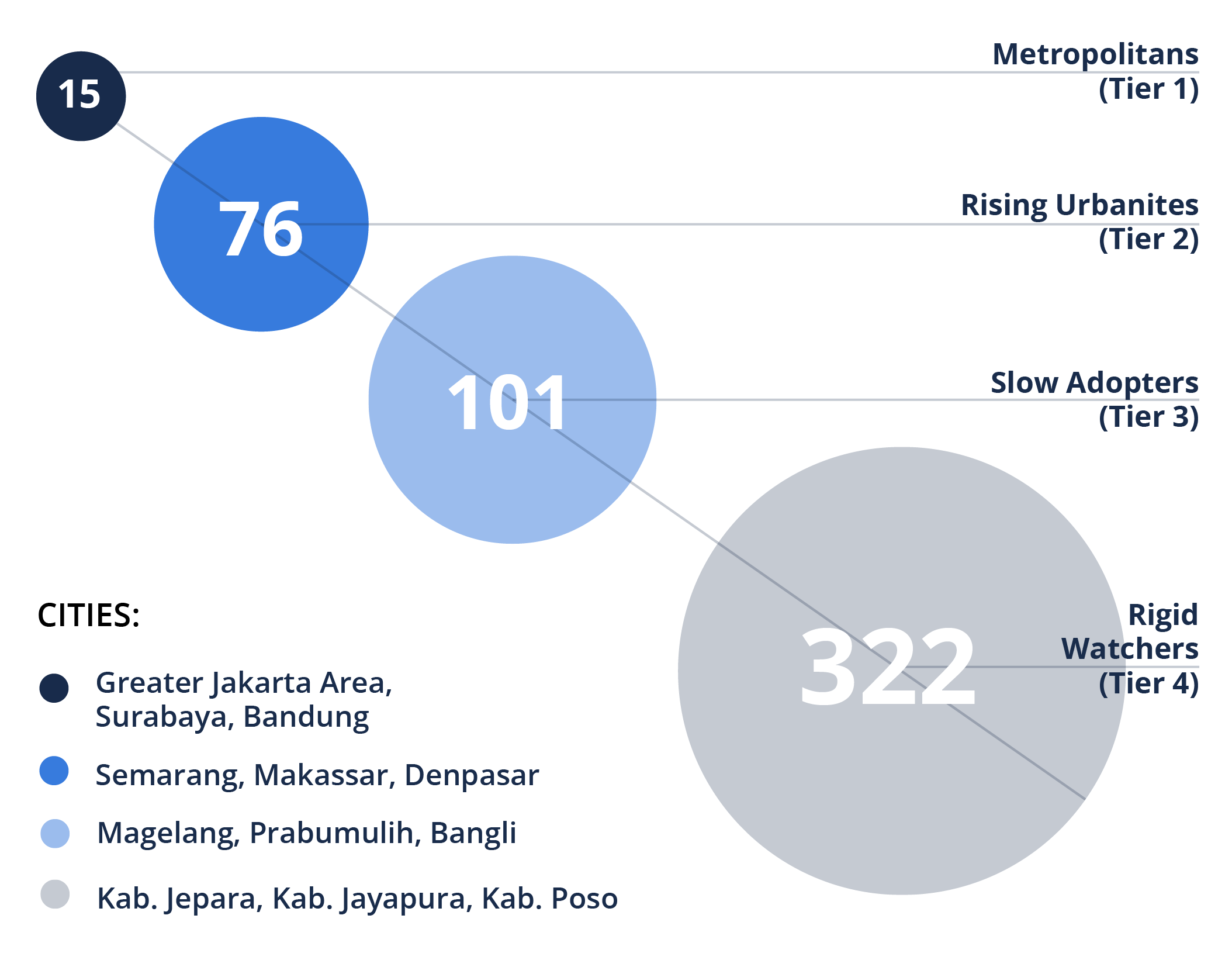 Next wave of growth: digital beyond Metropolitan Indonesia
Indonesia only has one economic center for the country in Greater Jakarta, no other area comes close in economic prominence.
In general, metropolitan area of Greater Jakarta plays an outsized role in Indonesia national economy, accounting for ~24% of national GDP
However, non-Metropolitan areas are growing faster and increasing in economic importance
Given the level of economic prominence, start-up activities and funding often start and remain centered in Greater Jakarta area up until today.
Up and coming: insights on key digital sectors
Based on our findings, there are three types of consumers across Indonesia based on their online habits
Different income, infrastructure, transportation, and financial habits lead to different digital behavior. Life in Metropolitan (Tier 1) are much more conducive for digital activities, i.e. better connection, higher income to support digital spend.
We observe each of this group in the report, and also go in depth into their triggers and barriers in digital adoption.
More in-depth findings and analysis on consumer behavior, their applications of choice, triggers and barriers are available in the full report.
Consumer type's proportion, by city category (% of total)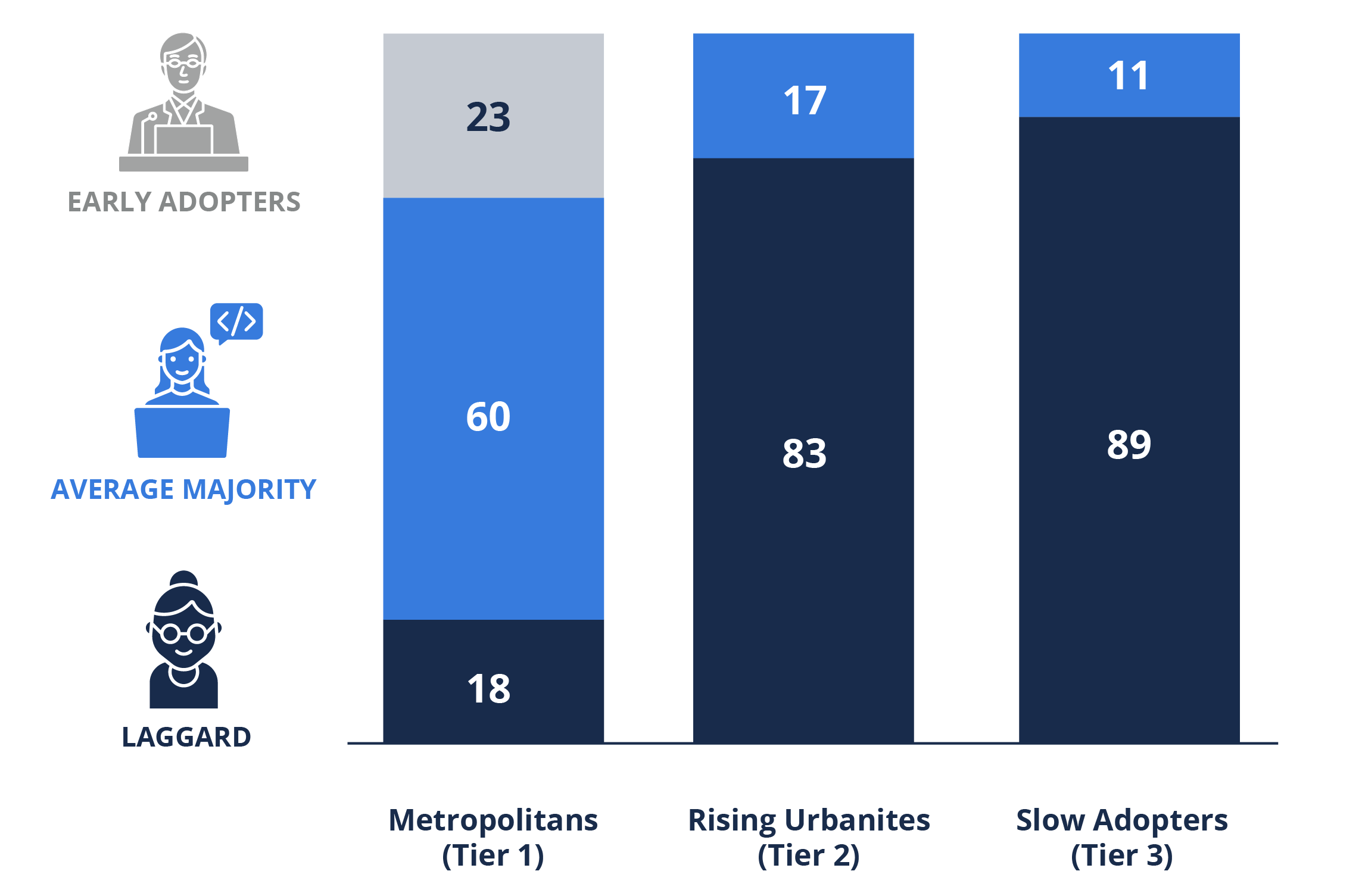 Tier 2/3 cities proportion to digital economy (% of total, 2020 and 2025F)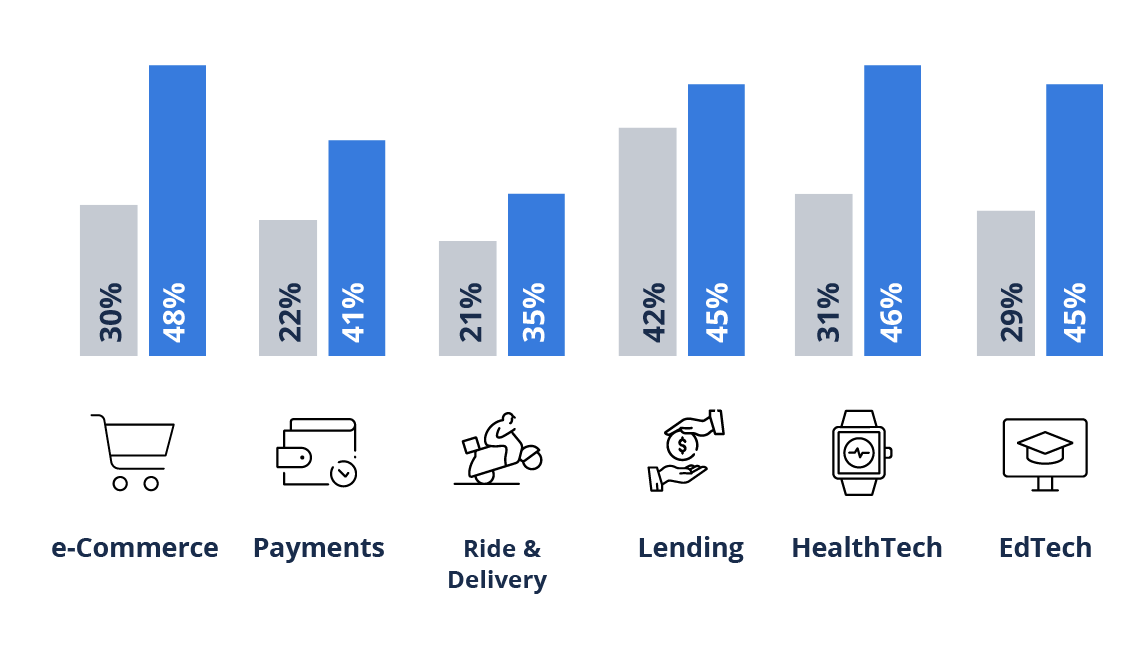 Looking forward: much has been done, much remains to be done
By 2025, tier 2/3 cities will exert their economic power and be key contributors with greater proportion to the Indonesian digital economy
Digital adoption in tier 2/3 cities is just starting out and is ~4-5 years behind tier 1 cities, and addressing the adoption barriers will be key to unlocking large laggard population.
Investors and start-ups need a customized approach to nurture their tier 2/3 markets.
See more of our findings and analysis on Indonesia's Tier 2 and Tier 3 cities in the full report.