RateS aims to be Indonesia's largest and most trusted social commerce platform
Jakarta, 12 June 2019 – Rate, a Singapore-based e-commerce startup, today announced the release of their new mobile app, RateS. The app allows individuals to start an online business by leveraging on their social networks without requiring capital or holding any inventory.
RateS acts as a middle-man between micro-shop owners and suppliers by sourcing for products directly from suppliers, handling inventory management and logistics, whilst micro-entrepreneurs are responsible for sales and marketing. With careful product curation, centralised merchandise sourcing and efficient supply chain management, it has enabled RateS to become a trustworthy platform providing a superior user experience. Users can browse the product catalogue on RateS and import any products they wish to sell into their RateS shop. Additionally, they can leverage on their social networks and share the product details directly to their social media platforms. Micro-shop owners have the power to decide on their profit margins and negotiate the final prices with customers themselves. Once a successful order goes through, the product will get delivered straight and drop-shipped to the customer directly.
"Selling products through social media is very active in Indonesia. We want to replicate these real-life offline transactions and bring them online. Indonesians are renowned entrepreneurs and we want to continue inspiring them to start their own online businesses. However, most people lack the capital, connections, and know-how. RateS provides a perfectly seamless experience for them to set up an online shop and sell items via social media, helping them to earn an extra income within minutes!" explained Jake Goh, CEO & Co-founder of Rate.
The new app aims to create the infrastructure layer for micro-shop owners who wish to start an online business without any capital and inventory. RateS handle all logistics, customer support, deliveries and payments. Currently, RateS is free of charge at launch but premium membership packages will be launched in the future where members are able to get access to advanced seller tools, exclusive product categories, and more educational content.
RateS is targeted at individuals who want to earn an extra income online without committing initial capital or inventory. We want to give everyone a chance at being their own bosses, to have ownership of something which helps them attain a higher standard of living. At present, approximately 50,000 wholesale products varying from female clothing and accessories to baby care and mummy bags can be found on the app.
Suppliers who wish to partner with us will be able to use RateS as an additional distribution channel to reach a larger audience and hence increase their sales. This factory-to-consumer model bypasses various middlemen in the supply chain and reduces marketing costs significantly by directly tapping on micro-entrepreneurs' social networks. This way, final customers get to enjoy much cheaper production costs.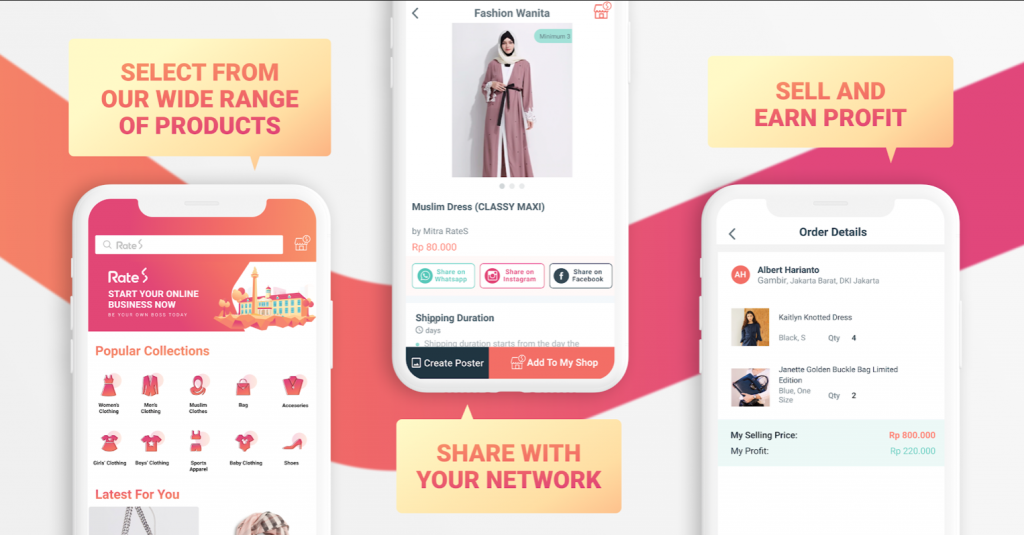 RateS rides on the social commerce wave that has seen massive success in China and is making its way to Southeast Asia. Last year, Indonesia's Ministry of Finance reported that 64% of e-commerce transactions occurred through social media channels. This high percentage of internet users coupled with the government's recent focus on "Making Indonesia 4.0", perfectly positions Indonesia as a social commerce hub; making it an ideal starting point for RateS to help individuals start a virtual marketplace and be part of Indonesia's 57 million strong community of micro-entrepreneurs.
"We are very excited about RateS' formal launch. We have grand plans for further development, but first, we want to introduce this revolutionary app to the people of Indonesia." concluded Jake Goh.
The RateS app is now available on both the App Store and Google Play Store.
---