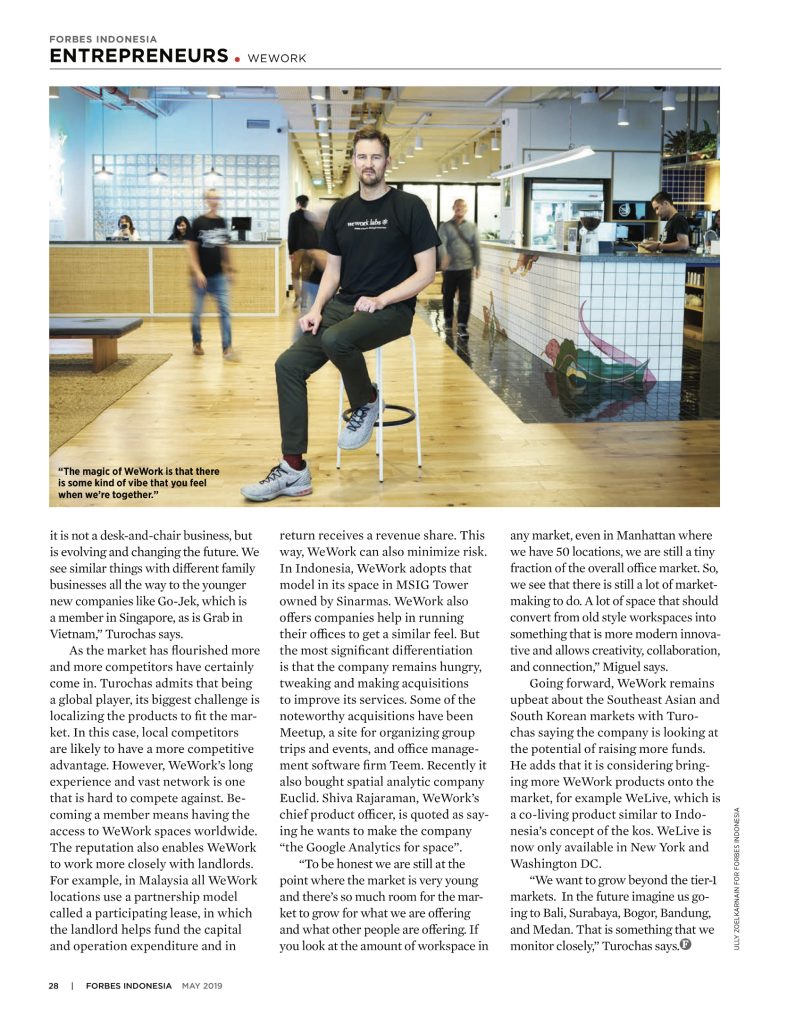 by Ardian Wibisono, Forbes Indonesia May 2019 edition
Property consultancy firm JLL recently made the interesting finding that 55% of leases signed in Jakarta in the first quarter of the year were made by technology and coworking space companies. Coworking space is certainly a growing business in Jakarta, and according to JLL's head of research James Taylor many of these coworking spaces are moving from grade B to grade A buildings, thus explaining why coworking spaces in new buildings and premium malls in Jakarta's CBD are most likely to be fully occupied. WeWork, the US-based company that pioneered coworking spaces, has been tapping the opportunities in this growing market in Indonesia. Two years ago the company invested $500 million in the Southeast Asian and South Korean markets. In Indonesia WeWork acquired local coworking space Spacemob in August 2017. WeWork currently has 19 spaces in cities in Southeast Asia, including five in Jakarta, out of their 425 locations worldwide as of the end of April.
Established by Adam Neumann and Miguel McKelvey in 2010, WeWork was reported to be worth $47 billion in February, even bigger than similar companies like IWG (previously Regus) that basically rent spaces for companies. Unlike many coworking space companies that focus only on technology companies and startups, WeWork has signed up big established companies like Walmart and Amazon. Now around 30% to 40% of the company's clients are in the Fortune 500. WeWork is aware that young people think diferently in comparison with previous generations when they choose where to work. And a working environment that provides human connection and a supportive ambience are among the key factors.
"From the talent perspective, they will look for the environment that feels right for them. Often times they find that old-fashioned workspaces are space tight, which is not the kind of place where they want to work, the think it's like their parent's job. I think that this is the way companies can quickly transform [to attract talent]. Companies need to transform their culture as well, but it will take time. Working space is one part but it's one solution," says Miguel, cofounder and chief culture officer of WeWork, on his visit to Jakarta recently.
WeWork is inspired by how Miguel was raised. He says the family that he grew up in was basically a community consisting of nine women, five mothers, four sisters, he and his little brother. The family connection was not biological, but friends who chose to spend their time together. He remembers that the environment was very non-traditional. All of the women in his family were entrepreneurs and community activists who cared about causes, women rights and the environment.
"So, it is a very interesting business, it is practical in one way: build the table, the lights, the internet, which is the infrastructure for work but we also add the energy that surrounds us, which is really important and you can feel it. The magic of WeWork is that there is some kind of vibe that you feel when we're together," Miguel says.
At WeWork the concept of work, play, and learning is blended together. WeWork has huge public areas with bars, arcade games, and open desks. Aside from working areas, the public area is a place for community activities like meditation classes, potluck lunches, and talkshow discussions for members to join in. The private rooms have transparent glass walls so members know the people who are working next door and get to know each other. All location interiors are neatly designed with elements of art and chic furniture, which Miguel has a hands-on role in choosing. On the other side, the enterprises that join are fast-paced small companies and startups working at WeWork and creating innovation. Miguel claims that 70% of WeWork's members interact with each other and 50% do business together. Thus, big companies can learn and build synergy with the startups. And not just in the US, Turochas Fuad, WeWork managing director for Southeast Asia, also sees the same pattern and reception here in Indonesia by conventional enterprises including family companies.
"We have been pleasantly surprised, like the Sinarmas family who really see this as an important thing for their business. Sinarmas invested in B2B eCommerce firm Bizzy, which is one of our biggest members in the MSIG Tower. When we talked with the executives at Sinarmas, I was impressed with the culture of the company, with decades of history yet they are very modern. They understand that it is not a desk-and-chair business, but is evolving and changing the future. We see similar things with diferent family businesses all the way to the younger new companies like Go-Jek, which is a member in Singapore, as is Grab in Vietnam," Turochas says.
As the market has flourished more and more competitors have certainly come in. Turochas admits that being a global player, its biggest challenge is localizing the products to fit the market. In this case, local competitors are likely to have a more competitive advantage. However, WeWork's long experience and vast network is one that is hard to compete against. Becoming a member means having the access to WeWork spaces worldwide. The reputation also enables WeWork to work more closely with landlords. For example, in Malaysia all WeWork locations use a partnership model called a participating lease, in which the landlord helps fund the capital and operation expenditure and in return receives a revenue share. This way, WeWork can also minimize risk. In Indonesia, WeWork adopts that model in its space in MSIG Tower owned by Sinarmas. WeWork also ofers companies help in running their ofces to get a similar feel. But the most significant diferentiation is that the company remains hungry, tweaking and making acquisitions to improve its services. Some of the noteworthy acquisitions have been Meetup, a site for organizing group trips and events, and office management software firm Teem. Recently it also bought spatial analytic company Euclid. Shiva Rajaraman, WeWork's chief product ofcer, is quoted as say-ing he wants to make the company "the Google Analytics for space".
"To be honest we are still at the point where the market is very young and there's so much room for the market to grow for what we are offering and what other people are offering. If you look at the amount of workspace in any market, even in Manhattan where we have 50 locations, we are still a tiny fraction of the overall office market. So, we see that there is still a lot of market-making to do. A lot of space that should convert from old style workspaces into something that is more modern innovative and allows creativity, collaboration, and connection," Miguel says.
Going forward, WeWork remains upbeat about the Southeast Asian and South Korean markets with Turochas saying the company is looking at the potential of raising more funds. He adds that it is considering bringing more WeWork products onto the market, for example WeLive, which is a co-living product similar to Indonesia's concept of the kos. WeLive is now only available in New York and Washington DC.
"We want to grow beyond the tier-1 markets. In the future imagine us going to Bali, Surabaya, Bogor, Bandung, and Medan. That is something that we monitor closely," Turochas says.
Read more stories on on Forbes Indonesia's website.