Jakarta, 10 February 2020 —  In a round led by Alpha JWC Ventures and Wavemaker Partners, Indonesia's largest and fastest-growing B2B (Business-to-Business) marketplace for FMCG (Fast-Moving Consumer Goods) GudangAda announced its recently raising a double-digit million funding. Singapore's private equity fund Pavilion Capital also participated in the round.
Addressing the Indonesian FMCG market of over US$ 50 billion in value, annual growth of 8%, a vast customer base and value chain from producers to small retailers, GudangAda is a B2B marketplace for all traders in the FMCG supply chain to meet and transact online. The platform connects various kinds of traders, from principals, distributors down to small retailers like mom-and-pop shops. Every fulfillment is guaranteed, and payments are secured through third party escrow accounts to enhance trust and ease in facilitating online transactions.
GudangAda aims to empower the entire FMCG supply chain ecosystem by bridging a technology gap, enabling every trader within the platform to become both a seller and buyer in conducting multiple transactions concurrently. Unlike their conventional business-as-usual, traders transacting through GudangAda's platform would typically see higher sales volume with faster turnover, reduced operational cost and lower procurement price, plus better transparency in transaction and documentation, while at the same time accessing a significantly larger customer pool, business network and product selection. Rather than becoming a disrupter to the ecosystem, GudangAda's unique approach is to become an enabler for players across the entire FMCG value chain.
Beyond its innovative model and robust technology, GudangAda also brings strong partnerships with key FMCG players and a solid team. The Jakarta-based company was founded in late 2018 by Stevensang, an industry expert with over 25-year experience in the Indonesian and Southeast Asian FMCG and retail scene. Prior to founding GudangAda, Stevensang served as Chief of Sales & Distribution at one of Indonesia's leading FMCG companies and previously as President Director of Indonesia's largest distribution company. He also spearheaded market entry for the largest lifestyle retail chain in the country today. Besides the founder, GudangAda's core operating team consists of FMCG and tech professionals with decade-long experiences in various verticals.
"In the past year, we have successfully introduced our services and received positive responses from traders. Our numbers on both users acquired and GMV transacted, keep breaking record month by month. Retention rate has been great as well, that's how we know that what we offer is what our members need, not only what they're curious to try," says Stevensang.
"It's a tough industry to break into. Many similar tech players have tried yet many have failed or are struggling now. We build our business based on our experience and deep understanding in the industry to see which are important for the FMCG players, their pain points that we can touch, and how to influence them best. It's also worth noting that in this industry, relationship and trust are the most vital factors, and we're fortunate that our track record before this can provide that and bring us to where we are right now."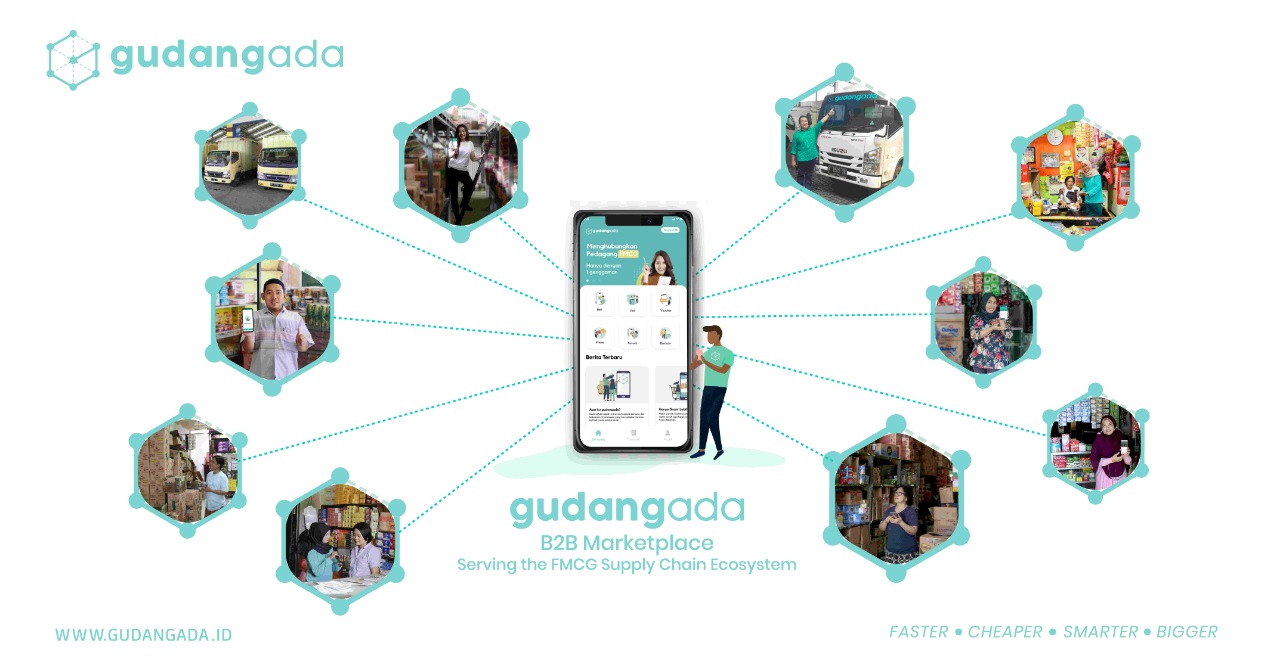 Within just one year since inception, GudangAda has onboarded thousands of members (i.e. distributors, wholesalers and retailers) onto its platform, covered 500 cities in all Indonesia's major islands from Sumatra to Papua, completed hundreds of thousands of transactions, and facilitated hundreds of millions of cartons of FMCG goods movement. The platform currently offers tens of thousands of SKUs ranging from F&B, personal care, cosmetics to cigarettes, and is broadening its product selection every week as new partners come onboard.
The Seed investment is the company's first institutional fundraising round. Backed by three of the region's strongest venture capital firms, GudangAda, with its proven traction, is on track to soon become a category leader in Indonesia, Southeast Asia's largest market.
"It's not every day you can find a company as solid as GudangAda and a founder as experienced as Stevensang. From day one, we have a high conviction for this company and its potential," says Alpha JWC Ventures' Managing Partner Chandra Tjan. "Not only have they managed to blitzscale within a short period of time, GudangAda has also raised what we believe the largest amount of a Seed round in Indonesia. With this trajectory, we believe GudangAda will play a pivotal role in empowering the FMCG ecosystem to be the leading player in this region — and we're proud to be part of their journey."
"On the surface, FMCG distribution might seem like an old industry that can be easily disrupted by technology startups. In reality, it is still largely offline and relationship-driven with habits that may not be so easy to change. We are excited to back GudangAda which is guided by Stevensang's insightful approach," says Paul Santos, Managing Partner of Wavemaker Partners.
The fresh funding will be used to fuel the company's continued business expansion, from expediting member onboarding, expanding service and solution offerings, to enhancing leadership and operational talents to accelerate growth. This year, GudangAda aims to broaden its member coverage across the FMCG value chain and integrate deeper into its existing supply chain networks. Stevensang is confidently optimistic and fully committed to this audacious goal.
"We have validated our business and built a solid foundation for GudangAda. Now, with strong support from our investors and partners, all we have to do is continue what we have done successfully on a much bigger scale and much faster. We will accelerate our expansion and provide more comprehensive services so we will be able to serve most players in the Indonesian FMCG ecosystem," Stevensang says.