After proving their expertise in the automotive business and leading the market in Singapore, Carro is strengthening their presence in two other markets: Thailand and Indonesia.
Since founded in 2015, Carro has progressed fast in their original business line of used vehicle trade and expansion to other related sides of the automotive industry.
In Singapore, Carro is the largest online vehicle marketplace that provides all-in-one services, from speedy selling, insurance, paperwork solutions, to financing. Carro aims to guide and take care of users throughout the car ownership journey by providing an information-rich, convenient, and value-added experience.
The companystarted with customer-to-customer (C2C) market, but then found the lower and bigger part of the iceberg: the business-to-business (B2B) side of automotive trade. With their technology, Carro has changed agents' behavior, from using Whatsapp groups for transactions, to using Carro's fast and reliable mobile application.
"It's hard to grow at the C2C market as the business is not scalable in Singapore. Then, we found this hidden market of B2B players: agents who sell and buy used cars among themselves. It was very manual, but the transactions happen daily and massively," says Co-Founder Aditya Lesmana. "We made a digital platform for used car showrooms to facilitate this, and our numbers tripled since then."
Winning the B2B market doesn't mean Carro forget their C2C core as the operation is profitable and the reason why Carro has always been a positive economic business. In fact, Carro has been profitable since the third month of their inception thanks to their C2C operations. 
To bring the all-in-one services to their customers, Carro developed other vertical beside their marketplace, including instant sales, warranty, workshop appointment, and online valuation features. They also build their own Fintech vertical: Genie Finance and Carro Care insurance.
"We built our own credit engine that allows us to underwrite loans in a different way than banks," Co-Founder Aaron Tan says. "Carro knows the buying-selling business better than banks. With our data and algorithm, we can come up with more accurate car value and price loans."
Despite the tough business and demanding customers, Carro is growing very fast both in their original and other business lines.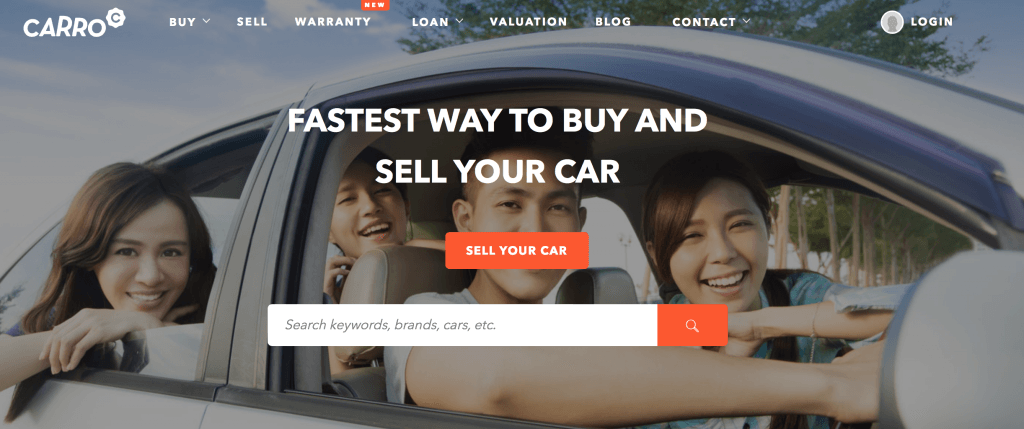 "It's all about the trust we've built and our standard operating procedures," Co-Founder Aditya says. "We also keep growing our tech to make sure that our services are ten times better than regular agents'."
After securing their domination in Singapore, Carro is now eyeing Indonesia and Thailand.
The company started operating in Indonesia mid-2017 and since then, has cracked the local market.
"Indonesia is a very different market. In Singapore, cars are expensive, so even with only 2 percent margin our revenue is already high, and 100 transactions monthly is enough to cover our expenses. But in Indonesia, cars are cheap. That's why C2C is not a scalable business to run," Aditya says. "But B2B is a different game. It's obscure but it is big. It's scalable, at least in Southeast Asia, and so far, as Carro is boosted by tech, the response in Indonesia is really good."
Carro is now in fifteen cities in Indonesia, but this time, they go with full B2B approach to scale up their presence by onboarding agents to Carro's platform to make transactions faster and easier.
"Many competitors have copied our C2C model in Indonesia and they went bankrupt because the numbers are not good. Some choose to subsidize the market through promotions, and we don't think it's a good idea. Carro doesn't believe in that. In this industry, it doesn't make sense because people don't buy cars that often, right?" Aditya says. "But with our B2B approach, we are sustainable. Also, with our level of services, dynamic and superior pricing, and understanding of the local market, we are sure copycats wouldn't work even if they copy our model."
Carro takes 'understanding local market' very seriously. Research and visits are a must before they roll into a new city so they can apply specific approach to a local market. This also applies in their expansion to Thailand as well.
"We started with C2C plan, but the climate and behavior are different there. People like new cars there. The used car trade is controlled by strict regulations, not mentioning the mafia," Aditya explains. "We then decided to do B2B by the end of 2017 with intercity services. The growth has been very promising."
For now, Carro will focus on developing mobile apps for dealers in the three countries and keep exploring the possibility of new markets or new verticals. They also target to increase the number of transactions by 10x this year.
"It's huge, but we can do it. The business and mechanic are there, we just need to amplify," Aditya says.
---
Learn more about Carro in Singapore here, in Indonesia here, and in Thailand here.