This year's first quarter was filled with many wonderful things for our firm. We kicked off the year with the announcement of our second fund of US$ 100 million, and we are happy to share that we are nearing its final close. We are excited to see more and more investors believing in the potential of Indonesia's and the region's digital economy and wanting to take part in the growing industry and ecosystem.
So far, our second fund has been disbursed to eight companies, three of which just joined us this year and have been performing really well. Our Fund 1 companies have also grown well, while some have secured new rounds of funding, such as Alterra, Carro, and Bobobox.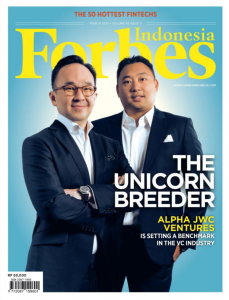 Although our firm's investments are mainly focused in Indonesia, we have strengthened our reach in the region as well. In addition to that, we have also made more investments in Vietnam and saw more investors starting to pour capital into the country's top startups — including to our new portfolio, Logivan, which has banked US$ 7.9 million from three rounds.
In the media, we have been featured in Forbes Indonesia's March 2019 edition cover bearing the title of 'The Unicorn Breeder' where our co-founders and managing partners, Jefrey Joe and Chandra Tjan, shared about the journey of building a leading venture capital firm and how the Alpha JWC team works closely with the founders to grow since their early days.
On top of that, some of our young founders have also been listed in Forbes Indonesia's and Forbes Asia's 30 Under 30: Steven Wongsoredjo of Nusantara Technology, James Prananto of Kopi Kenangan, Michael Jovan of TaniHub, Angky William of STOQO, and Jake Goh of Rate.
Our team has also continued our effort in developing the ecosystem, both in Indonesia and abroad, through our outreach programs, from speaking about Asia's digital economy in one of the world's largest investment events Super Return International in Berlin, to our biggest Alpha Leader Series so far.
We are excited with the strong start of the year and are looking forward to continuing the momentum to make 2019 an exceptional one!